The single "Boozed mindblind"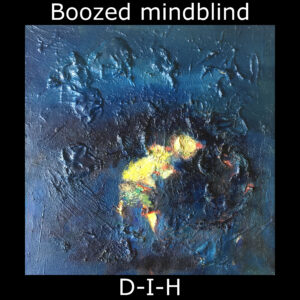 is ready for your ears on your fav. stream.
Below is a link to the single on youtube, and there are credits and lyrics below the cover image.
Link (only in Danish) to a little crazy text which is part of the basis of the number -
good luck finding the meaning. 
Participants:

D-I-H (Dan Ingemann Hansen): Composer, Author, Arrangement, Vocals, Guitar
Lars Rahbek Andresen: Producer, Mix, Keys, Percussion
Morten Hellborn: Drums
Jesper Haugaard: Bass
Jakob Groth: Mastering
@Midgorm: Cover art – oil on canvas
Recording, mixing and mastering at Medley Studios winter 2021/2022
All rights reserved © D-I-H 2022
Boozed mindblind – lyrik:
I have seen many places
Had to leave way to soon
I have seen many faces disappear
Fade away – way to soon and I will never ever
Feel their love again – I am forgotten
Be their friend again – my boozing mind is rotten
Be welcomed again – my mind is way to strange to
Love – love for good

I have brought such disgraces
Apologized way to much
I have lost many moments – disappeared
Lost in time – forever gone and I will never ever
Really know what happened – I have forgotten
Get the time again – my boozing mind is rotten
Make it good again – my mind is way to strange to
Know – what is right – mmm

I am mindblind
And I am way too strong for them
Oh I am mindblind and I don't need them right now

Now I should be wise and straight again
And find the way through the wild blinds of my mind